EUPAVE Workshop "The Right Concrete Mix for the Right Surface" Held February, 2017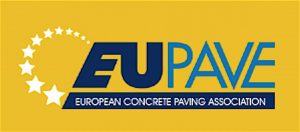 The European Concrete Paving Association (EUPAVE) held its third Workshop on "Best Practices in Concrete Paving" on February 23, 2017 in Brussels, Belgium. The theme of this edition was "The right concrete mix for the right surface". Attended by about 50 participants, the workshop gathered concrete paving practitioners such as contractors, designers, engineers, academics, as well as material and equipment manufacturers.
Each participant received a copy of EUPAVE's new publication "Achieving and Maintaining the Evenness of Concrete Pavements".
Karl Downey, Secretary General-EUPAVE, opened the workshop on behalf of Stéphane Nicoud, President-EUPAVE. Following this, Rory Keogh, Chairman-EUPAVE's Best Practices WG, introduced the agenda of the day and highlighted that best practice sharing is important to ensure excellence not only in design of concrete pavements, but especially in their execution. During presentations, presenters and participants shared their own experiences, which in many cases differed per country:
Luc Rens, Managing Director-EUPAVE, introduced the speakers and moderated the lively discussion that followed. Presentations were given by:
Carlos Jofré, Consultant: Importance of the concrete mixture for evenness and gave practical guidance
Jens Skarabis, Silentex: Factors that influence skid resistance and explained techniques for achieving the desired skid resistance
Martin Peyerl, Smart Minerals/VÖZ: Experience with two-layered concrete pavements in Austria, noting that Austria has almost 30 years of experience in using recycled pavements in the bottom layer of two-layered concrete pavements
Marco Pollok, Deltabloc: Concrete mix required for successful execution and durability of concrete safety barriers
Tim Alte-Teigeler, OAT: Techniques for texturing concrete surfaces—micro-milling and diamond grinding
Frédéric Ljung, Chryso: Demonstrated the wide range of surface effects that can be achieved with decorative concrete, noting that "the only limit is your imagination"
For the link to this article, please go to: http://www.eupave.eu/documents/news-items/24022017-3rd-workshop.xml?lang=en&template=/system/templates/site/print.html.
ISCP home page photo: Frédéric Ljung presenting the "Decorative Concrete Surfaces"