ASCP 2015 Concrete Pavement Conference Brochure NOW AVAILABLE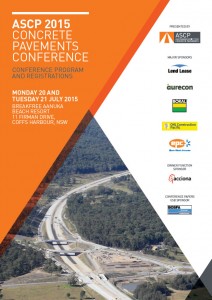 The printable conference brochure of the Australian Society for Concrete Pavements (ASCP)'s 2015 Concrete Pavements Conference is NOW AVAILABLE! The conference will be held July 20-21, 2015 at the Breakfree Aanuka Beach Resort in Coffs Harbour, NSW, Australia.  The 2015 Conference aims to bring new information to the Australian industry and aims to extend the scope of previous Conferences to include papers on the foundations which support concrete pavements. In addition to papers about concrete pavements (design, construction, materials and equipment), the conference will present information related to pavement support aspects—especially earthworks, drainage, piling, soft soil considerations, and many concrete pavement topics.
Please view the printable conference brochure or the conference website for more details and to register for the conference.
For an article on the ASCP 2015 conference, please read pages 4-5 of the ISCP January, 2015 Newsletter.
Of special note to ISCP members: ISCP and ASCP Directors, who will be present, will hold a meeting on July 22 to discuss matters of mutual interest. The ISCP Executive Committee and Board of Director members who will represent the society at the event include: Neeraj Buch, Peter Taylor, Juan Pablo Covarrubias, Jim Grove (recent past Director), George Vorobieff, and Anna-Carin Brink.