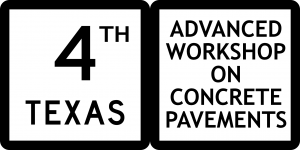 Scope
This workshop aims to bring together experts in concrete materials characterization, mechanics, modeling, and design to critically discuss and develop concepts to address existing limitations, lack of knowledge, and future direction for improvement of concrete pavement with respect to curling and warping issues.
Workshop Background
This workshop will be the fourth in a series of fundamental workshops sponsored by the International Society for Concrete Pavements (ISCP). The first in this series of workshops was held in Copper Mountain, Colorado, USA in August 2005. The second in the series of workshops was held in Berkeley, California, USA in August 2008. The third workshop was held in Lac Delage, Quebec, Canada in July 2012.
The theme of the 2016 workshop will be Curling and Warping Issues in Concrete Pavements. All persons with interest in this theme are welcome to participate.
Workshop Format
Participants are expected to make a short (10 minutes or less) Powerpoint presentation on a topic related to curling and warping of concrete pavements.  These presentations will be grouped with similar topics to help facilitate discussions on the these issues and help shape the future direction of research in this area.
The goal of this workshop is to identify the areas of needed research and their associated objectives as well as identifying the key characteristics of approaches to reach those objectives.
Draft Agenda
| | | |
| --- | --- | --- |
| | FRIDAY, AUGUST 26 | |
| Time | Topic | Discussion Facilitator |
| 1pm | Welcome and Introductions - includes goals of this workshop | Dan Zollinger |
| 1:30pm | Topic #1: Modeling Curling & Warping Behavior - Includes issues such as stress, strain, and deformation prediction | Julie Vandenbossche |
| 3:30pm | Mid-Afternoon Break | |
| 4:00pm | Topic #1: Modeling Curling & Warping Behavior , continued | Julie Vandenbossche |
| 5:30pm | Adjourn for the day | |
| 6:30pm | Social Hour and Dinner | |
| | SATURDAY, AUGUST 27 | |
| 7:30am | Breakfast | |
| 8:00am | Topic #2: Curling & Warping-Related Experimental Studies - Includes issues such as concrete set, heat of hydration, temperature and moisture transport, curing, etc. | Halil Ceylan |
| 10:00am | Mid-Morning Break | |
| 10:30pm | Topic #2: Curling & Warping-Related Experimental Studies , continued | Haili Ceylan |
| 12:00pm | Lunch | |
| 1:00pm | Topic #3: Characterization of Curling & Warping in Design | Lev Khazanovich |
| 4:00pm | Adjourn the workshop and head to San Antonio for the 11th International Conference on Concrete Pavements | |
Venue
The workshop will be held at the Henkel Square Hall in Round Top, Texas.
Registration
The registration fee for the workshop will be USD$175 for ISCP members and USD$225 for non-members.  This fee includes breakfast (Saturday), lunch (Saturday), and an evening reception (Friday).  Spouses are welcome for meals and can pre-arrange to pay for individual meals.
https://www.concretepavements.org/product/individual-registration-for-4th-adv-wksp/
Accommodations
Several bed and breakfast locations are available in Round Top within walking distance of the Henkel Square Hall. Accommodations are not included in the workshop fees and should be reserved individually.
Hotels are also available about 10-15 miles outside of Round Top in Brenham, La Grange, and Giddings, TX for those that choose to drive in for the workshop each day (daily transportation will not provided).
Transportation
Transportation from local airports to Round Top will be coordinated through ride sharing of participants when possible.  Please indicate your travel plans to the organizers (either when registering or when making travel plans) to help facilitate transportation options.
Distance from San Antonio International Airport – 131 miles (2 hours 10 minutes)
Distance from Austin-Bergstrom International Airport – 72 miles (1 hour 15 minutes)
Distance from George Bush Intercontinental Airport (Houston) – 101 miles (1 hour 40 minutes)
Attire
The attire for this workshop will be casual, so please dress for the local weather (typical high temperature of 95F or 35C).  This may include shorts, sandals, hats, etc.
About Round Top
Round Top is a small Texas town  (population 90) renowned for its antiques shows, music festivals, and theater productions that draw visitors from around the globe throughout the year.
Contact Information
For more information, please contact one of the workshop organizers:
Dan Zollinger
Email: d-zollinger@tamu.edu
Phone: 979-845-9918
Jake Hiller
Email: jhiller@mtu.edu
Phone: 906-487-3053

Afrikaans

Afrikaans

Albanian

Arabic

Armenian

Azerbaijani

Basque

Belarusian

Bengali

Bosnian

Bulgarian

Catalan

Cebuano

Chinese(Simplified)

Chinese(Traditional)

Croatian

Czech

Danish

Dutch

English

Esperanto

Estonian

Filipino

Finnish
French

Galician

Georgian

German

Greek

Gujarati

Haitian

Hausa

Hebrew

Hindi

Hmong

Hungarian

Icelandic

Igbo

Indonesian

Irish

Italian

Japanese

Javanese

Kannada

Khmer

Korean

Lao

Latin

Latvian

Lithuanian

Macedonian

Malay

Maltese

Maori

Marathi

Mongolian

Nepali

Norwegian

Persian

Polish

Portuguese

Punjabi

Romanian

Russian

Serbian

Slovak

Slovenian

Somali

Spanish

Swahili

Swedish

Tamil

Telugu

Thai

Turkish

Ukranian

Urdu
Vietnamese

Welsh

Yiddish

Yoruba

Zulu
Powered by
Translate
Our Gold Members