Free "TH 24 OPEN HOUSE" to be Held May 21 in Dassel, MN, USA: REGISTER HERE!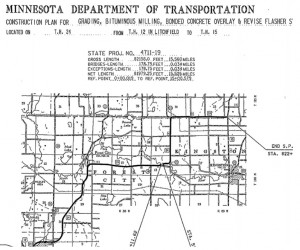 The Trunk Highway 24 (TH 24) Concrete Overlay Project Open House will be held Thursday, May 21, 2015 from 10:00 to 13:45 (10:00 am to 1:45 pm) at the Dassel City Hall Community Room, Dassel, Minnesota, USA.
Sponsored by the Transportation Engineering and Road Research Alliance (TERRA); Minnesota Department of Transportation (MnDOT); Federal Highway Administration (FHWA); CP Tech Center (CPTC); and Concrete Paving Association of Minnesota (CPAM), the Open House will highlight the 15-mile-long, 4-in-thick bonded concrete overlay (BCOA) project completed in 2014 on TH 24 near Litchfield, Minnesota, USA.
The primary goals are to share the lessons learned during the construction of the project and to visit the project to review its performance after its first winter of service. Web-based connection will be available for TERRA members.
There is NO CHARGE for the open house, although registration is required in order to have an accurate count for transportation and lunch. To REGISTER and for more information, please download the open house flyer.