Baveno, Milan, Italy: "The World Conference on Pavement & Asset Management 2017", June 2017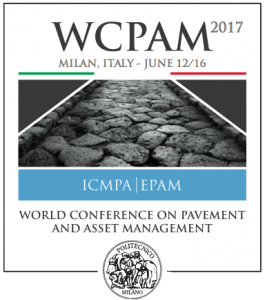 "Getting ready to face Pavement and Asset management future needs and scenarios, efficiently matching savings, user requirements, sustainability, and changing in social awareness" WCPAM 2017, more than just a conference!"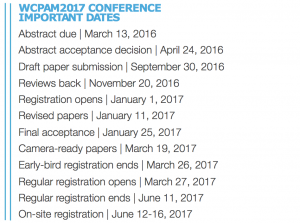 The World Conference on Pavement and Asset Management (WCPAM2017) will be held June 12-16, 2017, in Milan, Italy—on the amazing Maggiore Lake, in the enchanting lakeside town of Baveno. For the first time, the European Pavement and Asset Management Conferences (EPAM) and the International Conference on Managing Pavement Assets (ICMPA) are joining forces for a global event that aims to involve people from all over the world.
In the context of the current, global financial crisis, the use of best management practices to extend infrastructures' service life, the development of effective asset management strategies and the optimization of available resources are all becoming increasingly important.
ABSTRACT SUBMISSIONS: Please submit a 250-word abstract before March 13, 2016 by following the instructions coming soon. The conference proceedings will be indexed by major databases, such as SCOPUS and/or Web of Science. The conference will include research findings, best practices, case studies, problem statement and solving, involving countries from all five Continents, about:
Road and Airport pavements and assets preservation, maintenance, and rehabilitation
Pavements and Assets monitoring and performance assessment
Safety and risk management
Economic, environmental and political strategies for Pavements and Assets
Life-cycle cost analysis and life-cycle assessment
Road and Airport PMS
Pavement innovative design methods and materials
Pavements and Assets Data Monitoring
Bridges and tunnels pavement management systems
The conference program includes the following:
An extensive TECHNICAL PROGRAM: parallel podium/poster sessions, one technical tour, 

and workshops

PLENARY SESSIONS: presentations by leaders in the field of pavement engineering;
INTERNATIONAL EXHIBITS: companies driving innovation and quality in pavement engineering, construction and maintenance techniques;
Key-note lectures: 4 parallel sessions, 112 podium presentations, forums & open discussions, interactive meetings, poster presentations, and much more.
A White Paper and Research Need Statements will also be drafted at the end of the Conference to stimulate, promote and present future research needs to decision makers as well as to the press and other media.
Participants will:
Be Actively Involved in discussions and working groups
Improve their knowledge on asset management
Take the know-how back to their own business
For registration, sponsor opportunities, and other information, please visit the WCPAM2017 website: www.wcpam2017.com.
For the brochure, please go to: http://www.wcpam2017.com/wp-content/uploads/2015/06/pieghevole_05.pdf.