Publication: TRB's "Transportation Research Record: Journal of the Transportation Research Board Concrete Materials, 2015"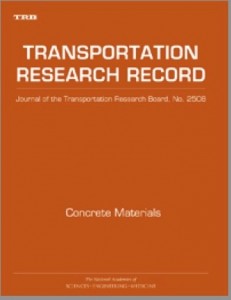 The Transportation Research Board's (TRB)'s Transportation Research Record: Journal of the Transportation Research Board, No. 2508, is now available for purchase. The Journal explores 13 papers related to concrete materials, including:
Development of Innovative Antifreeze Grout Mortar for Anchor Applications in Cold Regions
Interlaboratory Study and Precision Statement for AASHTO T 336 Test Method
Flexural Behavior of High-Volume Fly Ash Concrete Beams: Experimental Study
Assessing Performance of Glow-in-the-Dark Concrete
Laboratory Fatigue and Toughness Evaluation of Fiber-Reinforced Concrete
Conventional Portland Cement and Carbonated Calcium Silicate–Based Cement Systems: Performance During Freezing and Thawing in Presence of Calcium Chloride Deicing Salts
Pavement Concrete with Air-Cooled Blast Furnace Slag and Dolomite as Coarse Aggregates: Effects of Deicers and Freeze–Thaw Cycles
Mitigating Alkali–Silica Reaction in Concrete: Effectiveness of Ground Glass Powder from Recycled Glass
Evaluation of Recycled Concrete as Aggregates in New Concrete Pavements
Recent Virginia Department of Transportation Applications with Self-Consolidating Concrete
Effect of Sand Content on Properties of Self-Consolidating, High-Performance Cementitious Mortar
Accelerated Slab Replacement Using Self-Consolidating Concrete
Numerical Prediction Model for Temperature Development in Mass Concrete Structures
Price:
TRB Affiliate: $48.00 USD     |     $64.00 USD
For more information and to purchase the publication,
please go to: http://trrjournalonline.trb.org/toc/trr/2508/.