ABSTRACT DEADLINE POSTPONED to May 22, 2017 for the 13th ISCR-2018 to be Held in Berlin, June 2018
Upon request from potential participants and to offer opportunities for more interested parties wishing to submit an abstract, the deadline for abstract submission has been postponed to May 22, 2017. The final date for submitting abstracts: May 22, 2017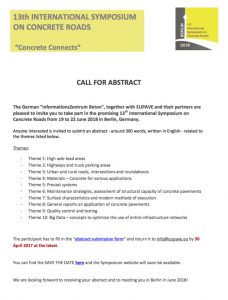 The German "InformationsZentrum Beton", together with EUPAVE and partners are pleased to invite you to take part in the promising 13th International Symposium on Concrete Roads (13th ISCR-2018) from June 19-22, 2018 in Berlin, Germany. "Concrete Connects" is the motto of the 13th ISCR-2018, and will be held June 19-22, 2018 in Berlin, Germany.
The 13th ISCR-2018 is the major event worldwide dealing with design, construction, maintenance and management aspects of concrete pavements, including sustainability and all types of applications such as highways, rural roads, urban infrastructure, roundabouts, airports, heavy-duty pavements etc. Also, a dedicated session on soil stabilization will be included and technical excursions will be organized.
Please submit an abstract – around 300 words, written in English – related to the paper themes.
Please fill out the "abstract submission form" and
return by May 22, 2017 to: E-mail: info@eupave.eu.
Abstract Submission Form, please click on image to the right or link below: https://www.dropbox.com/s/bx8ghxcet2spsk9/ABSTRACT%20SUBMISSION%20FORM%2013%20ISCR.docx?dl=0.
To see the themes, and read the ISCP article with all of the details, please go to: https://www.concretepavements.org/2017/03/13/call-for-abstracts-13th-international-symposium-on-concrete-roads/.
For more information, visit the Symposium official website: www.concreteroads2018.com.