Jacksonville Naval Air Station (NAS-Jax) Runway Face-Lift Underway, Recycling Concrete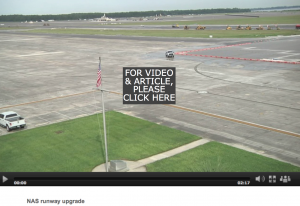 The runway face-lift at the Naval Air Station Jacksonville (NAS Jax), in Jacksonville, Florida, USA, is well underway. The NAS Jax is beginning its first runway upgrade in nearly half a century. The $50 Million project includes recycling 20 tons of concrete into the new runway. The concrete from the old runway is currently being crushed, and will be reused for the runway's upgrades.
The air station's runway is also getting some much-needed upgrading that will make it safer for the sailors and their equipment. "Being able to recycle everything we can—out of any construction project—is one of the commanding officer's main objectives," said Lt. Jamie Wallace, Project Manager-NAS Jax. The renovations include:
A new 1,000-foot overrun pavement added to the existing runway
Upgrades to the taxiways
New airfield lighting
"When this project is complete, we'll have over 120 aircraft on the line and conducting operations out of here. It'll help us be more efficient so the aircraft can taxi straight out to the runway down by the hangar on the west side," said Howard Wanamaker, Commanding Officer-NAS Jax. Three of the hangars that have been at the air station since World War II will be demolished, but some of the artifacts inside will be collected and preserved at Jacksonville's Museum of Science and History. The project is expected to be completed in the spring of 2016.
For the video and article please click here or on the image above. For the Google map of NAS Jax, please click on the map to the right.