CP Road Map E-News, December 2015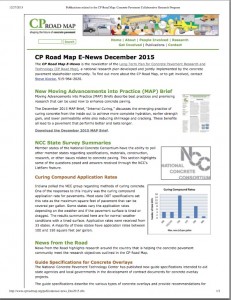 The CP Road Map E-News is the newsletter of the Long-Term Plan for Concrete Pavement Research and Technology (CP Road Map)—a national research plan developed and jointly implemented by the concrete pavement stakeholder community. To read the CP Road Map E-News December 2015 topics, please click on the image to the left or click here: http://www.cproadmap.org/publications/e-news_Dec2015.cfm.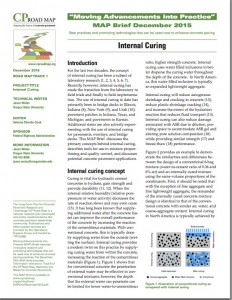 New Moving Advancements into Practice (MAP) Brief: MAP Briefs describe best practices and promising research that can be used now to enhance concrete paving. The December 2015 MAP Brief titled "Internal Curing", discusses the emerging practice of curing concrete from the inside out to achieve more complete hydration, earlier strength gain, and lower permeability while also reducing shrinkage and cracking. These benefits all lead to a pavement that performs better and lasts longer. To read and download the PDF of the December 2015 MAP Brief, please click on the image to the right or click here: http://www.cproadmap.org/publications/MAPbriefDecember2015.pdf.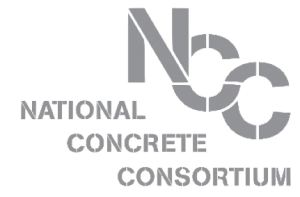 NATIONAL CONCRETE CONSORTIUM (NCC) STATE SURVEY SUMMARIES: Member states of the NCC have the ability to poll other member states regarding specifications, materials, construction, research, or other issues related to concrete paving. This section highlights some of the questions posed and answers received through the NCC's ListServ feature.
Curing Compound Application Rates: Indiana polled the NCC group regarding methods of curing concrete.
NEWS FROM THE ROAD: News from the Road highlights research around the country that is helping the concrete pavement community meet the research objectives outlined in the CP Road Map.
Guide Specifications for Concrete Overlays: The National Concrete Pavement Technology Center has published new guide specifications intended to aid state agencies and local governments in the development of contract documents for concrete overlay projects. This project was funded through a partnership between the FHWA, and the states of Iowa, Georgia, Michigan, Oklahoma, and Pennsylvania. To download, please go to: http://www.cptechcenter.org/technical-library/documents/overlay_guide_specifications.pdf.
Early Detection of Joint Distress in Portland Cement Concrete Pavements: Excessive joint deterioration has been observed in Midwestern states. This deterioration is generally attributed to a failure in the joint sealant, which allows water to enter the saw-cut joint, where it becomes trapped and leads to premature deterioration.
Evaluation of Concrete Grinding Residue Application on Vegetation: Diamond grinding is a successful restoration technique for correcting faulted joints, roughness, and surface irregularities in pavement surfaces.
For the Long-Term Plan for Concrete Pavement Research and Technology (CP Road Map) please to to: http://www.cproadmap.org/.
To find out more about the CP Road Map, or to get involved, contact:
Steve, Klocke, Program Manager, Snyder & Associates   |   E-mail: sklocke@snyder-associates.com   |   Phone: 515-964-2020
Dale Harrington, Program Manager, Snyder & Associates   |   E-mail: dharrington@snyder-associates.com
Sabrina Shields-Cook, Editor, CP Tech Center   |   E-mail: shieldsc@iastate.edu