USA: Utah DOT Designs 40-Year Sustainable Concrete Pavement for High-Elevation Highway With Fly Ash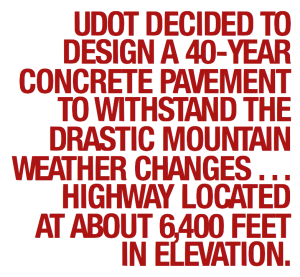 A recent article was published in the 'Concrete Channel' of 'Roads & Bridges Online Magazine' by Todd Laker, Senior Technical Service Engineer-Holcim Inc. (ISCP Member); Mitzi McIntyre, P.E., Executive Director-ACPA Utah Chapter (ISCP Member); and Cody Preston, Concrete Paving Manager-Geneva Rock Products Inc. titled "Elevated Thinking: Mountain Region Calls for Strategy on Utah's I-80", USA.
Constructing, maintaining and reconstructing interstate highways can be accomplished in a sustainable, cost-effective manner. Sustainability is an increasingly important element in the design and construction of transportation infrastructure because of limited dollars and natural resources.
Construction materials and methods can contribute greatly to the overall sustainability of a pavement. The I-80 reconstruction project from Silver Creek Junction to Wanship, Utah, embodies the true spirit of sustainability and environmental stewardship. I-80 is the major east/west corridor for truck commerce across the state of Utah. With over 45% average daily truck traffic, the existing asphalt pavement was failing to withstand the loads and environmental conditions of this mountain area. Repeated surface failures caused the Utah Department of Transportation (UDOT) to repair this section of highway early and often. UDOT decided to design a 40-year concrete pavement that would withstand the drastic mountain weather changes associated with this section of highway located at about 6,400 ft in elevation. The project ran 12.15 km (7.55 mi) with two lanes in each direction and included the associated inside and outside shoulders. A total of 345.18 square km (377,500 sq yd) of portland cement concrete pavement (PCCP) was placed over the top of partial-depth reclaimed asphalt (PDR). Mainline concrete pavement design consisted of 30.48 cm (12 in) of PCCP placed over 10.16 cm (4 in) of PDR.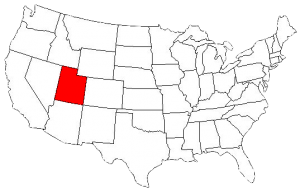 Due to the accelerated construction season in 2014, the eastbound lanes of I-80 were constructed with a traditional concrete paving mixture using a standard ASTM C150 Type II/V portland cement. The concrete mixture included 25% Class F fly ash.
The westbound lanes were constructed with a concrete mixture that was designed with sustainability in mind. This mixture utilized Holcim Envirocore cement as the hydraulic binder. The cement has a lower carbon footprint due to the incorporation of high-grade limestone, interground with the portland cement. The limestone lowers the CO2 associated with cement production. This concrete mixture also included Class F fly ash used in conjunction with the limestone cement increasing the CO2 reduction by an additional 25%. The concrete mixture significantly lowered the environmental impact from traditional concrete mixtures by utilizing blended cements and fly ash.
The two concrete mixtures performed similarly and met all concrete strength requirements for the project. Concrete batching and placement crews did not see a noticeable difference between the two concrete mixtures.
A SOLID PLATFORM: Another sustainable construction technology utilized on the project was that of PDR of a portion of the existing asphalt. 10.16 cm (4 in) of the existing asphalt was recycled by pulverizing and blending it with a percentage of portland cement to create a durable paving platform. This was the first project in the history of reclamation where only a portion of the existing asphalt was used, leaving the other portion in place.
There were many benefits to using the PDR under the PCCP. The PDR proved to be a superior paving base material, hold- ing up well during construction activities and reducing yield loss compared to an aggregate base.
The PDR helped the paving process remain consistent and continuous by providing a solid base, which played a major role in achieving smoothness. Additionally, because the existing materials were utilized on this project, very little waste was created and subsequently landfilled, thus reducing fuel and hauling and disposal costs, which have negative impacts on the environment.
To read the entire article and obtain details from this project,
please go to: http://www.roadsbridges.com/elevated-thinking.