New Paving Technology: CCP—RCC Benefits with Traditional Concrete Appearance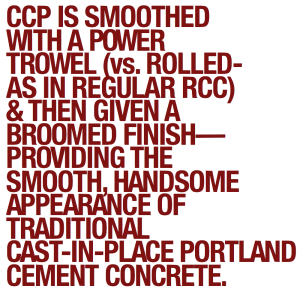 The Southeast Cement Promotion Association (SCPA) recently featured a new paving technology in their "Promotion Spotlight 2016". To further its achievement of quality, innovation, and excellence, the leaders of the new world-class Caterpillar manufacturing facility in Athens, Georgia, USA, chose to enhance its equipment staging area with a tough, economical new generation of Roller Compacted Concrete (RCC) – Compacted Concrete Pavement (CCP).
Compacted Concrete Pavement – RCC Benefits with Traditional Concrete Appearance
CCP is a new generation of RCC that has all of the outstanding benefits of RCC but with the appearance of traditional concrete. "I have worked with RCC for years and it's a great material," said Matt Munsick, Vice President, Andale Construction. "But, getting a good surface texture is very tricky. Small variations in moisture content can create big variation in surface appearance. With the ACEiT admixtures,we can control this and achieve a consistent, uniform texture."CCP is smoothed with

a power trowel (vs. rolled as in regular RCC) and then given a broomed finish—providing the smooth, handsome appearance of traditional cast-in-place Portland Cement Concrete. Additionally,
the ACEiT admixture facilitates compaction, virtually eliminating the need for rolling; the CCP comes out of the high-density paver at 95% modified Proctor density or greater. In addition to improving the ride, the elimination of rolling reduces the cost of CCP, making it competitive with other paving alternatives in first cost and superior in long-term costs.
CCP Can Take Harsh Loadings
The new storage and parking area required the placement of 34,000 square yards of heavy-duty pavement capable of withstanding the rigors of constant traffic of heavy-tracked vehicles, many with steel cleats. To handle this difficult loading, Caterpillar chose 152.4 mm (6 inches) of CCP over a sturdy base of 203 mm (8 inches) of soil-cement. The CCP was mixed at an onsite portable pug mill and placed in a single lift with a high-density paver. The soil stabilization with Portland Cement was accomplished. The result—a tough new pavement designed to withstand the abuse of tracked vehicles that move along this path each and every day the plant is in operation.
High Early Strength and Rapid Placement
This facility needed high early strength in order to put the pavement into service quickly. Compressive strengths for the CCP reached 3500 to 4500 psi in 2 to 3 days. Ultimate 28-day strengths reached 6000 to 7000 psi. This allowed new tracked vehicles to use the CCP within 30 hours of placement, thus avoiding any slow-downs at the assembly facility. Overall, the 28,428 m2 (34,000 yd2) of CCP were placed in 11 days, including several rainy days, while the site was still in use.
To read the Southeast Cement Promotion Association's PDF of the "Promotion Spotlight 2016",
please click on the images below, or please go to: _SCPA_Spotlight_CCP_GA_1607_2.