Gala Reception and Awards Banquet the Highlight of the 11th ICCP!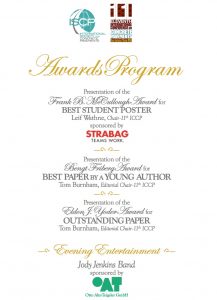 The highlight of the 11th International Conference on Concrete Pavements was the Gala Reception and Awards Banquet held at the Knibbe Ranch. The attendees enjoyed dinner and entertainment where the following award winners were announced:
B. Frank McCullough Award for Best Student Poster Board – Sponsored by "Strabag":
Moinul I. Mahdi – Louisiana State University
"Construction and Performance Evaluation of Roller Compacted Concrete under Accelerated Testing"
Bengt Friberg Award for Best Paper by a Younger Author:
Sushobhan Sen and Jeff Roesler – University of Illinois
"Albedo as an Engineering Property of Concrete Pavements"
Eldon Yoder Award for Best Paper of the Conference:
James W. Mack – CEMEX, Leif G. Wathne – ACPA,
and Feng Mu – CEMEX
"Improving Network Investment Results
by Implementing Competition and Asset Management
in the Pavement Type Selection Process"
Congratulations to all of the award-winners!