Barbados Cement Company Vies to Build Concrete Roads & Strengthen Barbados' Infrastructure
Arawak Cement Company is to begin work on a concrete road in April 2017 in a bid to convince Government to move away from asphalt to concrete surfaces. Manuel Toro, General Manager, said the company would construct 200 to 300 meters of road leading to its Checker Hall, St Lucy plant. "We expect to start building that road next month. It is going to be a pilot—just to test the condition of the road, the life cycle of the road, the cost compared with the other alternatives—and then we will communicate to the authorities and the Government to show that this is possible to do," Toro said.
Michael Lashley, Minister of Transport and Works, discussed the subject with Arawak Cement and offered to have the ministry work closely with the cement company on the project. He said tenders would go out shortly inviting bids from local contractors, some of whom were trained in 2016 in Nicaragua and Panama at the facilities of Arawak's new owner, CEMEX—an ISCP Member. Engineers tout concrete pavements as typically stronger, more durable, and more
environmentally friendly than asphalt roadways, and can also be grooved to provide durable skid-resistant surfaces. However, they have a higher initial 

cost, and can be more time-consuming to construct, which is why countries prefer to use asphalt, the experts say. As part of the company's strategy to expand its market share, Arawak Cement wants to push Barbados towards concrete, Toro explained. "We see a big opportunity there. I think if the plan is to bring more tourism . . . that tourism will need infrastructure, and adequate infrastructure."
Meanwhile, Toro revealed that the cement company had entered into cooperation agreements with the Samuel Jackman Prescod Polyclinic and the Barbados Community College to source at least ten students studying to become mechanics, electricians and welders will receive six-month internship at the plant. Toro explained, "We want to contribute to [the future of Barbados]. Not only generating employment and payment of taxes . . . also bringing in foreign exchange . . . . Now we want to expand [Arawak's] business lines because we believe that we have the technology to add to the local industry, especially in concrete and concrete grouts …"
In a NationNews online article, Toro also explained that the island's largest cement maker plans to pump US $50 million into the Barbadian economy [in 2017], but they could also save Government almost US $50 million as well. He revealed Arawak has the equipment to build special concrete roads that would last in excess of 20 years before needing repairs, potentially saving Government millions of dollars it currently spends on asphalt—which has a much shorter life.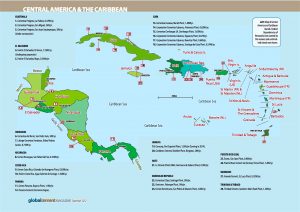 Barbados (bottom right of map) is a small island in the extreme east of the Caribbean archipelago which gained independence from Great Britain in 1966. It has since transformed itself from a primary economy dependent on sugar-cane exports to one based on the services sector, particularly off-shore services and tourism. Cement industry: Barbados' sole cement production plant is Arawak Cement, which was built as a turnkey contract by Austria's Voest-Alpine and began operation in 1984. The plant at St. Lucy operated between mid-1984 and 1991, when the prevailing economics forced the decision to close the kiln at the facility. St. Lucy subsequently operated as a grinding plant for three years until 1994, when it was taken over by Trinidad and Tobago's Trinidad Cement Ltd (TCL). To read more about Arawak Cement, and the Central American and Caribbean regional cement market, please go to Global Cement: http://www.globalcement.com/magazine/articles/725-central-america-a-the-caribbean-regional-cement-focus.
For full Barbados Today article, by Emmanuel Joseph, March 27, 2017, please go to: https://www.barbadostoday.bb/2017/03/27/arawak-cement-company-to-build-concrete-roads/.
Home page photo: Manuel Toro, General Manager-Arawak Cement Company