Top 16 Mistakes Made When Installing Concrete
TexCon Ready Mix recently reported on "Top 16 Mistakes People Make When Installing Concrete". Concrete installation is not nearly as straightforward as it seems. There is a wealth of preparation that occurs before a single drop of concrete is ever poured onto the site. What works for one site may not work for another. TexCon explains the top 16 mistakes people make when installing concrete in hopes of avoiding some costly and frustrating headaches:
1. Not understanding how much concrete is really needed for a project. Concrete always has three dimensions, and one of the first mistakes people make when choosing concrete is to underestimate how thick the concrete needs to be for their project …
2. Not rounding up an order of concrete. Concrete dries out quickly, which leaves no time to make mistakes or adjustments once it has been poured. When placing an order for concrete, don't try to …
3. Thinking all concrete is the same. Concrete is composed of the same three basic ingredients:
• Portland cement   • Water   • Aggregates
There are 5 major types of Portland cement:
Type I: general purpose, suitable for …
Type II: moderate sulfate resistance, suitable for concrete exposed to …
Type III: high early strength, suitable for cold weather …
Type IV: low heat of hydration, a rare type …
Type V: high sulfate resistance, suitable for…
… beyond the 3 basic components, there are additional ingredients known as admixtures that give concrete additional properties or strengths, and make it suitable for a range of different applications—and fall into one of 7 major categories:
Accelerating additives make the curing process, which can  …
Air entrainment is a type of additive that improves concrete's ability to withstand the freeze-thaw cycle, thereby reducing cracking. Air entrainment offers a number of other benefits …
Corrosion-inhibiting admixtures are used in reinforced concrete to slow the corrosion of the steel reinforcements. Corrosion-inhibiting admixtures are particularly useful in …
Retarding additives give the opposite effect of accelerating additives, because they slow the concrete's setting rate. They are useful in …
Shrinkage-reducing admixtures combat the shrinkage that occurs …
Super plasticizers give temporary workability to low-slump concrete, making it easier to pour and place. Superplasticizers only work for …
Water-reducing admixtures affect the water/cement ratio in order to produce concrete that is easy to work with but that has …

4. Failing to have all of the proper tools on hand. One thing that must always be kept in mind is the narrow window of time in which concrete can be worked once poured. Preparation is of utmost importance when installing concrete. Failing to have proper tools on hand can result in …
5. Underestimating the importance of properly supported concrete forms. Concrete forms provide a "container" for the fluid concrete and hold it in the proper shape until it can hold its own weight after fully hardening and drying. Forms have to have tight joints to prevent …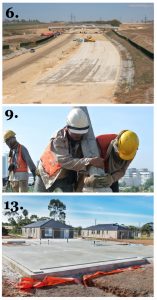 6. Rushing to pour concrete without proper site preparation. … improper site preparation can cause numerous headaches. Take the time to correctly prepare the site for …
7. Failing to use reinforcement when needed. Reinforcing concrete with steel is a common practice because the properties of steel complement those of concrete, and …
8. Placing steel mesh reinforcement incorrectly. Steel mesh is just one concrete reinforcement option, but it is particularly popular because it can be bent to fit many shapes, like columns or walls …
9. Trying to do the work alone. … Err on the side of having too much help rather than not enough. Failure to properly finish concrete once it has been poured can result in …
10. Using an incorrect water / cement ratio. The water / cement ratio compares the weight of water to the weight of cement in the overall concrete mixture. The water / cement ratio affects the concrete's workability, setting time, strength and durability …
11. Trying to pour concrete in poor weather conditions. Warm, rain-free days are ideal for pouring concrete. In fact, a stretch of at least three days without …
12. Walking away after pouring concrete. Concrete has liquid properties when it is freshly mixed, but pouring it won't result in a level, even surface without a little bit of work …
13. Removing forms before the concrete is truly dry. The forms or "molding" that holds the concrete in place until it dries should be left alone for at least two days to ensure that the concrete is completely dry. If the forms are removed too soon, the concrete can begin to sag, crack and collapse, especially if …
14. Overworking the concrete. Concrete does need a little bit of extra attention after it has been poured, but if it is moved around too much or "overworked," multiple problems can occur … trying to move through the finishing steps too soon can compound those problems …
15. Creating a slippery finish for walkways. For concrete slabs in particular, a textured finish is a matter of safety, not just something that looks good or adds visual interest. Smooth concrete can be very slick and slippery …
16. Being impatient during the curing process. Pouring, setting and finishing concrete is hard work … it needs additional care—called curing …
In Short: Preparation Pays Off
To continue reading the entire article, please go to: http://www.texconreadymix.com/top-16-mistakes-people-make-installing-concrete/.