Shovels Nor Plows Needed: Special Concrete Could Melt Mounds of Snow
Researchers have hit on a formula that electrifies pavement
and could ease recovery from big storms.
The National Geographic Magazine reported an article, by Christina Nunez (January 2016 issue) providing updates to decades-old snow-melting concrete technology. The idea of pavement that conducts power has been around for at least two decades, so why hasn't it caught on? Deborah D. L. Chung, Engineering Professor-University at Buffalo-SUNY who has long studied conductive concrete, says cost is "the biggest hurdle" when it comes to adopting new materials. Heating can be much less expensive as the Federal Aviation Administration (FAA) is funding research to make the costly conductive concrete more affordable. And, because it can be regulated—turned on and off—and only costs 13 watts of energy per square foot.
A special concrete mix, studded with electricity-conducting ingredients, could help airports and other places run on time during inclement weather — such as the January 22, 2016 weekend blizzard that paralyzed the U.S. Northeast. The new formula being tested at the University of Nebraska-Lincoln uses byproducts from the coal and steel industries to reduce costs 60% compared to earlier trials, according to Chris Tuan, Civil Engineering Professor. The 200-square-foot patch has embedded steel rods attached to electrodes, he says, that connect to a 120-volt AC power source. The conductivity comes from "coke breeze"—a carbon byproduct of coal mining, and steel shavings that are considered industrial waste. "We keep it barely above freezing … somewhere around 40°F," Tuan says, noting it doesn't take much heat to make the slab impervious to snow. "It doesn't get hot at all. When you use conducting concrete, the entire concrete heats up," he said. "Unlike underground coils, or radiant heat that provide uneven warming with cold spots in-between the tubes, there is no cold area." He added that his system is virtually maintenance-free, and takes only about 13 watts of energy per square foot.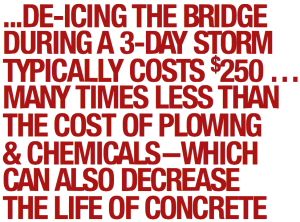 While the concept seems perfect for airport runways, the FAA is more interested in using it for tarmacs—where the real bottleneck occurs at the gates, where luggage and fuel carriers have to compete with smaller snow-clearing vehicles Tuan stated.
In 2003, Tuan installed a heated deck system for the 150-foot Roca Spur Highway Bridge in Lincoln, Nebraska, USA—the first implementation in the world using conductive concrete for deicing. The five-year trial went well. He says de-icing the bridge during a three-day storm typically costs $250 … many times less than the cost of plowing and chemicals—which can also decrease the life of concrete. Conductive concrete has the potential to become a very cost-effective bridge deck deicing method. The technology provides an environment-friendly solution to address the looming crisis of water supply contamination by road salts, particularly on bridge decks over streams and rivers in the cold regions (from the technical report "Implementation of Conductive Concrete for Deicing (Roca Bridge)" 2008).
In the future, Tuan wants to develop sensors and controls that would allow conductive concrete slabs to be automated, turning them on when storms approach and shutting them off when no longer needed. He hopes to get the green light this spring for a second phase of the FAA project, which would involve a building prototype system in Atlantic City, N.J., USA. He's also seeking investment from China, where he installed two demonstration parking ramps in the notoriously icy city of notoriously icy city of Harbin.
VIDEO:
http://www.eurekalert.org/multimedia/pub/107332.php
Four hours of time-lapse footage show conductive concrete melting fresh snow from its surface
during a winter storm that hit Omaha in late December 2015.

Courtesy video: Chris Tuan and Lim Nguyen, University of Nebraska-Lincoln
• To read the entire National Geographic article, please go to:
http://news.nationalgeographic.com/energy/2016/01/16016-conductive-concrete-could-melt-mounds-of-snow/.
• For the University of Nebraska article, please go to: http://www.eurekalert.org/pub_releases/2016-01/uon-ccc012216.php.
• Also, the story is part of a special series titled "The Great Energy Challenge" that explores energy issues.
• To read the technical report titled "Implementation of Conductive Concrete for Deicing (Roca Bridge)" in PDF form, please click on cover above or go to: http://nlcs1.nlc.state.ne.us/epubs/R6000/B016.0132-2008.pdf.
ISCP Home Page Photo: A snow plow cleared a road in Arlington, Virginia, Saturday, January 23, 2016, as a huge storm paralyzed travel in the U.S. Northeast. Specially formulated concrete could help reduce ice and snow delays by heating up… PHOTOGRAPH BY JOHN MCDONNELL, THE WASHINGTON POST/GETTY IMAGES